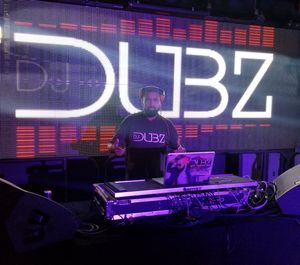 DJ Dubz "The Most Anticipated" was born Darnell Robinson and raised in Far Rockaway, Queens. It was here that he became inspired to DJ back in the late 1990's after watching his brother DJ Mr. Famous, cousin DJ Tye-Sticks, and sister DJ Reality as they lit up dance floors all across New York City. Their influences helped to shape DJ Dubz's future, and became the building blocks of his music business. As a young child, Dubz learned his technique by playing a Sony PlayStation and a DVD player with a Gemini mixer his brother had left behind while he attended college, and later advanced to professional turntables, CDJs, and of course Serato which has trumped the DJ industry. In 2006 DJ Dubz and his business partner Joe "Zoo" Sable decided to take the entertainment industry by storm with the launch of Xquizit Entertainment. Together they've influenced thousands of party goers from New York to Florida, PA, PR, and other locations in and outside the US by hosting events at high class venues in true celebrity style. Xquizit Entertainment is just that… Xquizit Entertainment!! 
DJ Dubz's musical talent, strong business skills, and event planning experience make him a triple threat to the music game. They don't call DJ Dubz "The Most Anticipated" for nothing. You can catch him spinning the latest in Hip-Hop, R&B, Reggae, Soca, House, Pop, & more. For event dates and contact information be sure to check him out at @dubzofxquizit , www.Xquizitent.com or Email- partywithdjdubz@gmail.com 
Playing At NYC Clubs Such As Orbit, La Marina, Highline Ballroom, BB Kings, Taj, Suite 36, Jimmy's, Katra, The Ainsworth, Hudson Terrace, etc. the list goes on and on. DJ Dubz is also an official Cricket Wireless DJ, has performed many times at MACYS Herald Square for a number of brands including MAC Cosmetics. DJ Dubz also works under Gould Artist Mngmnt. on all of the HORNBLOWER Cruise line ships on NYC party cruises just to name a few.  
Playing For All Types Of Crowds Alongside Some Of NYCs Top DJs Such As Legend, DJ Magic of HOT 97, DJ Commish, DJ SELF & DJ Will of Power 1051, And all of DaUnion DJs Just To Name A Few. DJ Dubz has played on DTFRadio.com and other internet radio platforms. Its Only A Matter Of Time Before This Young DJ Explodes All Over And Spreads As Everyones Favorite DJ. Currently You Can Find DJ Dubz Tearing Down Venues Across The NYC. 
In 2018 DJ Dubz Launched a company called "My UBER Event Service" which specializes in Weddings, Bat Mitzvah's, Sweet 16s, Private Birthday Celebrations, Corporate Events and more. He is an insured full service DJ company with state of the art equipment, lighting, etc. 
Early in 2019 DJ Dubz received an invitation to one of the MOST recognized DJ crews in NYC and beyond "Da Union Entity" and without hesitation he answered the called with acceptance as he has looked up to these DJs since the beginning of his career. 
This is still the beginning of a bright future for this young DJ mogul.  
DJ Dubz Would Like To Give Thanks To Some Of The People Who Helped Him Make It This Far. : Mr Famous, DJ Tye Stix, DJ Reality, Legend, DJ Mastermind, DJ Commish, DJ Will of Power 105.1/DaUnion DJs. Blacklight Ent., In Da Clutch Ent., The Live On 5th Group, Elseon, The Entire Original LXP,. LatoniaModels, And Many More. 
Contact for booking- 
Partywithdjdubz@gmail.com 
347-450-DUBZ 
@djdubznyc (IG/Snap)